Readers prefer original content so you must pay increased attention to the content your writers are writing before posting it to your website. Also, checking if your site's content is being plagiarized or if your website is having too many pages with duplicate content are essential things to do to make your site worth good in all search engines. Some of the important elements to look at are title tags, dynamic URLs, Meta descriptions and product descriptions. Therefore, in today's post, we bring to you several online tools to help you detect
duplicate content
. Some of these
tools
are free to use.
Here are the
15 Tools for Checking Duplicate Content
. If you find this article very useful then don't hesitate to share it with your writer friends. Enjoy!
Virante
Virante Duplicate Content Tool is an excellent resource one can use to check for common duplicate content issues.
Visit Site
Dupli Checker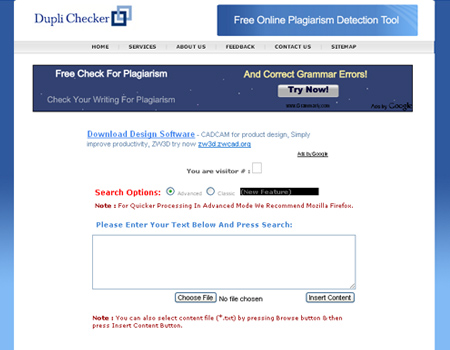 DupliChecker is a
free
online plagiarism checker software for finding plagery, free plagiarism scanner online, plagiarism detector free online.
Visit Site
Copyright Spot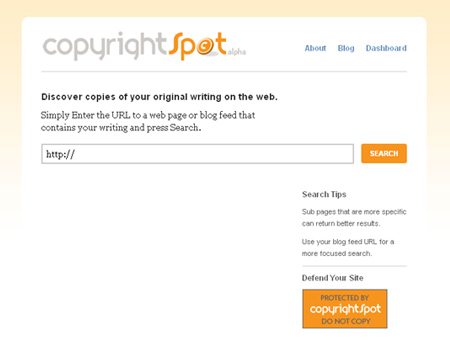 CopyrightSpot is a website that helps webmasters and bloggers better detect plagiarism of their work.
Visit Site
Plagiarisma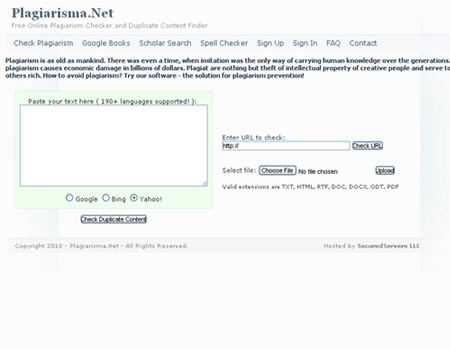 Plagiarisma.Net is a free online plagiarism checker and duplicate content finder which provides three ways to check if your writing could be red-flagged.
Visit Site
Percent Dupe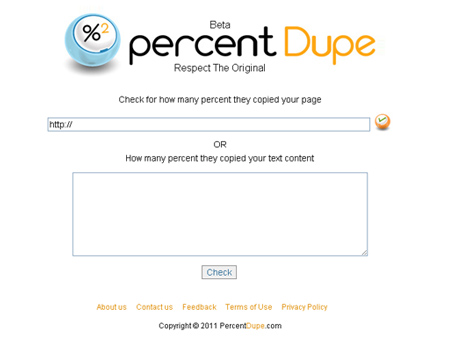 PercentDupe is an online plagiarism and duplicate content detection tool which protects your valuable content online.
Visit Site
Copy Scape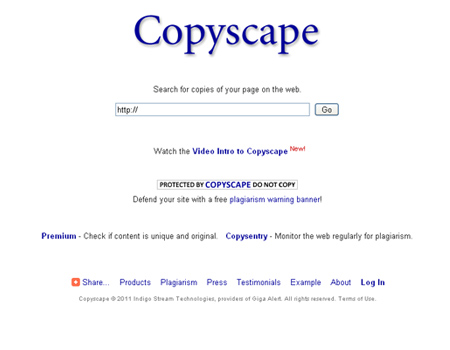 Copyscape is a free plagiarism checker that checks whether similar text content appears elsewhere on the web.
Visit Site
Copy Gator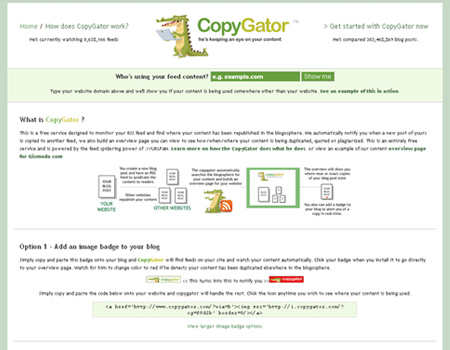 CopyGator is an online service that will find feeds on your site and watch your content automatically.
Visit Site
Article Checker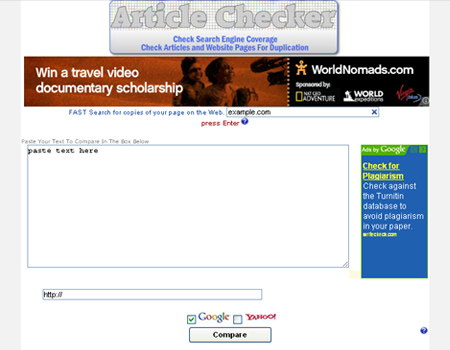 Article Checker is a free web plagiarism checker that lets you check for duplicate or plagiarized content on the web.
Visit Site
Plagiarism Checker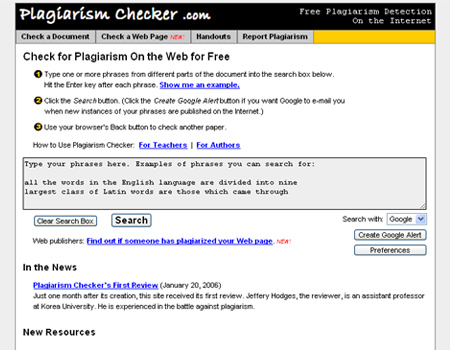 PlagiarismChecker.com enables you to check plagiarism on the internet for
free
.
Visit Site
Plagiarism Detect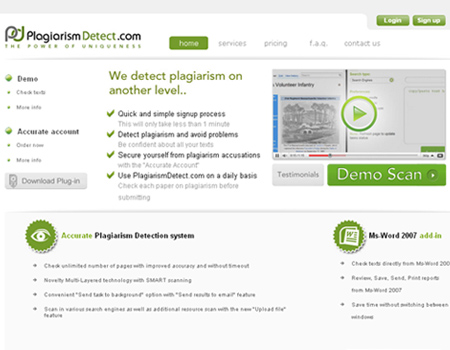 PlagiarismDetect.com is a professional plagiarism checking system that is able to determine if the written document or paper is already been written or posted by other user on the Worldwide Web.
Visit Site
Similar Page Checker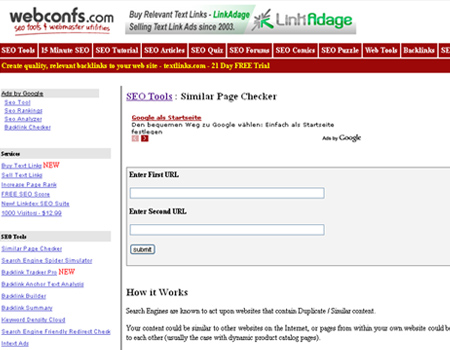 Similar Page Checker is a nice tool by webconfs.com that can compare pages and see how similar they are.
Visit Site
Duplicate Content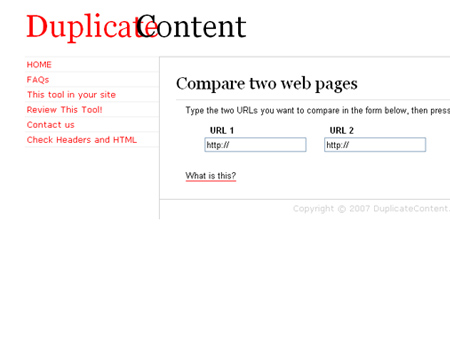 DuplicateContent allows you to check whether two texts are substantially similar and the alikeness of the structure of the pages.
Visit Site
Plagium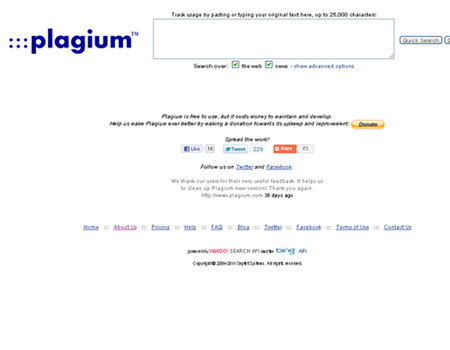 Plagium is a free online multilingual plagiarism tracker which checks text against possible plagiarism or possible sources of origination.
Visit Site
Dupe Cop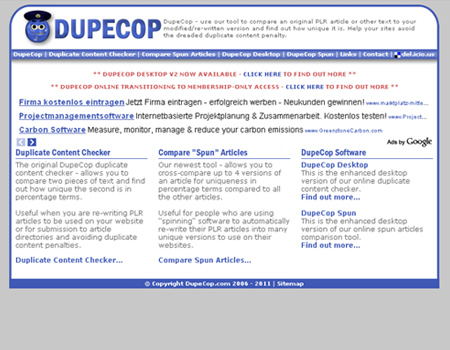 Dupecop is a famous website which provides tool to compare an original PLR article or other text to your modified/re-written version and find out how unique it is.
Visit Site
Dupe Free Pro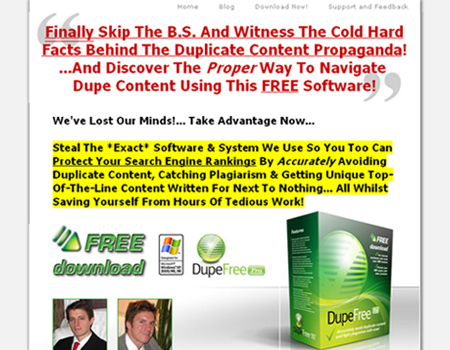 DupeFree Pro is a program that allows you to check your work for duplicate content.
Visit Site